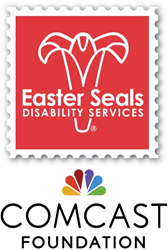 Chicago, IL (PRWEB) July 24, 2014
Easter Seals, in partnership with the Comcast Foundation, today announced that Easter Seals programs in six locations nationwide will receive $ 25,000 each as the 2014-2015 recipients of the Comcast Assistive Technology Grant Fund.
Established in 2012, the fund empowers individuals living with disabilities by providing expanded assistive technology training and services. Individuals benefitting from these grants include children and adults living with developmental disabilities, like Autism Spectrum Disorder, as well as veterans.

To date, the fund has helped an estimated 25,000 Americans. This announcement comes as the country prepares to celebrate the 24th anniversary of the Americans with Disabilities Act on July 26th.
These newest grant awards follow the announcement in 2013 of a national partnership between Easter Seals and Comcast and NBCUniversal. The media and technology company pledged $ 6.3 million in cash and in-kind to continue to help with Easter Seals assistive technology efforts.
Assistive technologies can greatly improve the lives of people with disabilities by helping them to overcome barriers at home, work, school and in their community, said Charisse R. Lillie, Vice President of Community Investment at Comcast Corporation and President of the Comcast Foundation. We are proud to continue our support of Easter Seals through these grants and make a positive impact, one person at a time.
The grant awards expand successful models of assistive technology throughout the country. Five Easter Seals affiliates, as well as Easter Seals Headquarters, were selected by Comcast through a competitive grant process. The chosen affiliates excel in programs that guide consumers on assessment, training and on-going support. Services are designed to meet an individuals assistive technology needs throughout his or her lifespan.
We thank the Comcast Foundation for their continued investment in assistive technology solutions for consumers with disabilities living in their communities, says James E. Williams, Jr., president and chief executive officer, Easter Seals. This grant fund makes it possible for Easter Seals to build on our long history of providing expertise and technology support for children and adults with disabilities who want to be more actively involved in school, in the workplace and with their families.
The Easter Seals affiliates selected to receive the funds and their plans for the grants are:

Continue Reading